Celebrate "Chico"de Mayo
May 4, 2020
Products available at Trader Joe's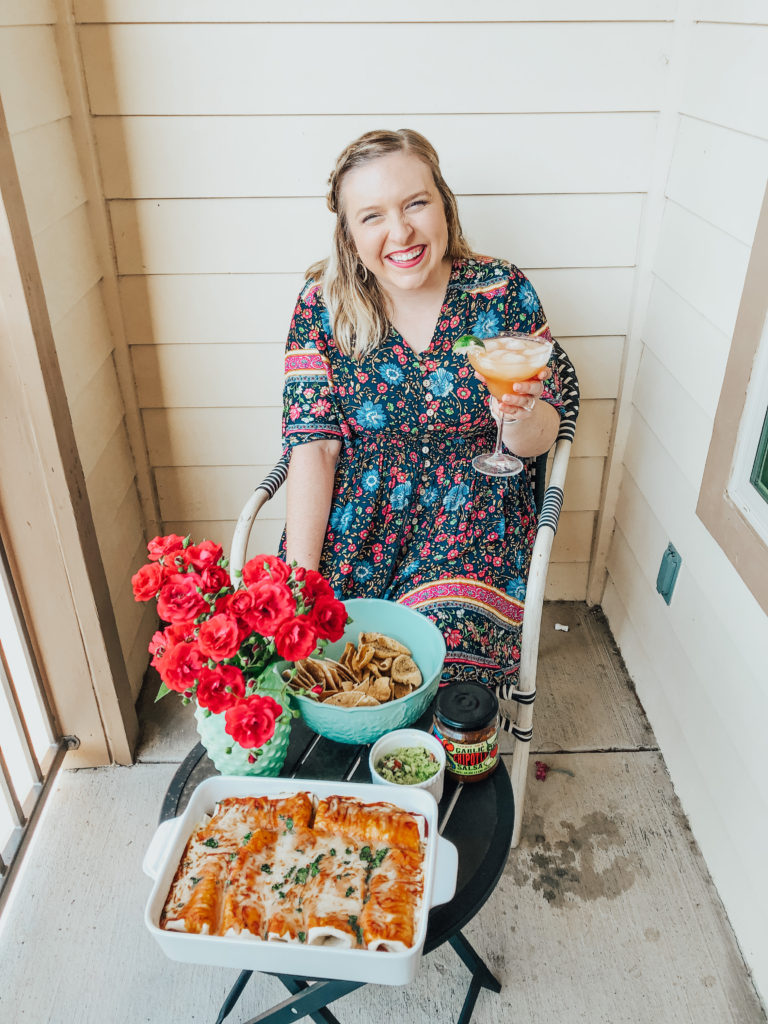 Even if you are celebrating at home, let's make this Cinco de Mayo the best yet with lots of family time, refreshing drinks and yummy Tex-mex! We are celebrating in true Cinco De Mayo fashion with some homemade Palomas, guacamole and beef enchiladas. All thanks to my favorite store, Trader Joe's in Southlake, TX I have everything I need for a true fiesta! I am a frequent shopper(weekly) at TJ's in Southlake Town Square and they always have exactly what I didn't even know I needed haha! I have been shopping there consistently for about 2 years now and I am never going back to any other grocery store. You guys know my love for Trader Joe's as I share my weekly TJ's hauls on instagram and I think they might just do tex-mex the BEST! Scroll down for our beef enchiladas recipe you have to try!
I wanted to share one of our family's favorite (easy) TJ's meals that would make the perfect Cinco de Mayo dinner(or any other night too). It only takes around 30 minutes which is a win in my book! We love getting enchiladas when going out to Mexican restaurants and these are just as good y'all, no joke! I think what makes it is Trader Joe's red enchilada sauce, that stuff is something else! We are pairing our enchiladas with homemade guac, Trader Joe's Elote Corn Dippers(if you have not tried these, GO GET THEM) and one of our favorite summertime cocktails, Palomas which is essentially a grapefruit margarita on the rocks(recipe below)!
Trader Joe's Beef Enchiladas Recipe:
Ingredients:
1 lb of ground beef(you could sub in ground or shredded chicken or ground turkey)
1 can of black beans(drained)
1/2 a bag of TJ's roasted corn(in frozen section)
1 jar of TJ's Enchilada Sauce
handful of TJ's heavenly grape tomatoes chopped
1/2 of a large white or yellow onion diced
1 bag of pepper jack shredded cheese
6-8 tortillas depending on how many you want(we use flour or corn!)
cilantro and lime for toppings w/ optional sour cream
serves best with chips & guac and Palomas!
Instructions
Preheat oven to 350 degrees.
Add chopped white onion in olive oil over medium heat in a large pot. Cook for about 5 minutes then add in ground beef. Sauté for another 10 minutes until browned. Next, add in 1/2 a bag of TJ's frozen roasted corn and chopped tomatoes to cook for another 5 minutes.
Add in one can of black beans, juice from 1/2 a lime and taco seasoning and combine all ingredients together.
Pour 1/3 of the enchilada sauce on the bottom of the pan. Begin to stuff your tortillas with the filling – I used soft flour tortillas but corn would be great too! Sprinkle with some shredded pepper jack cheese, roll up the tortilla and place folded side down on the baking dish. Continue to do so for the rest of your tortillas (I used 7) then generously pour your sauce over top so that the tortillas are covered. Top with more pepper jack cheese and some chopped cilantro and bake for 15-20 minutes until the cheese is melted. Serve with fresh jalapeño, sour cream and guacamole!

Ingredients:
grapefruit juice(2 parts) I love using Trader Joe's Fresh Squeezed Grapefruit juice, saves time and gives you plenty for lots of drinks
lemon juice(1 part)
tequila(2 parts)
agave nectar(1/2 part) Also a Trader Joe's Fav: Blue Agave Sweetener
salt for rim

Directions:
We used 3 ounces of tequila and grapefruit juice, 1.5 ounces of lemon juice, and 1/2-1 ounce of agave depending on how sweet you like it. Use a lime wedge to rim the glass with margarita salt. Pour all the ingredients except the grapefruit juice into the glass. Mix the agave syrup into the tequila first, then add lemon juice, ice and then finally add the grapefruit juice. Garnish with a lime, lemon or grapefruit wedge. You are ready to serve up your fiesta!
I hope this gave you some CHICo de Mayo inspo so you can fiesta wherever you are! Hope you love these recipes as much as we do, tag me if you try them! Here's to good food, good company, and the best grocery store out there, you are the real MVP @Trader Joe's in Southlake! Thanks for reading!
XOXO, Little Piece of Chic(Julia)
Check out Julia's Blog at www.littlepieceofchic.com and on Instagram @littlepieceofchic